Since its inception in 2011, Envision: seeing beyond has been an independent optical trade magazine with a specific purpose – providing all categories of eyecare professionals the information they need to succeed.
Covering the multitude of challenges and realities faced by Canadian ECPs on a daily basis, Envision has everything from frames and lenses to merchandising and store design, to the latest medical breakthroughs and practice management tips, to human resources and financial planning…
The combination of experienced, knowledgeable writers and editors along with top-notch graphic direction allows Envision to deliver high-quality, engaging content to its readers.
Closing and Publishing Dates 2018
---
 Closing Dates
  Publishing Dates
  Edition
  Reservation
  Material
  Digital Edition
  Print Edition
 January / February
 December 7, 2017
 December 14, 2017
 January 12, 2018
 January 25, 2018
 March / April
 February 1, 2018
 February 8, 2018
 March 2, 2018
 March 15, 2018
 May / June
April 4,  2018
 April 11, 2018
 May 4, 2018
 May 18, 2018
 July / August
 May 18, 2018
 June 2, 2018
 July 4, 2018
 August 11, 2018
 September / October
 August 2, 2018
 August 16, 2018
 September 6, 2018
 Septembre 20, 2018
 November / December
 October 3, 2018
 October 17, 2018
 November 9, 2018
 November 23, 2018
Printed Editions
subscribers
---
*Based on the September/October 2017 edition
Digital Editions
subscribers
---
January / February
3D Printed Frames and Lenses
A new era is dawning in the manufacture of lenses and frames and 3D printing is most definitely on the cutting edge. Will it assume mass market proportions? What is the downside? What products are most exciting? This feature offers wonderful exposure for companies leading the charge.
March / April
Luxury Eyewear
What does 'luxury' mean in today's world? From artisanal innovation in design and materials to top-selling eyewear that turns heads at the mention of a brand, this feature defines, and possibly re-defines luxury.
May / June
Kids' Eyewear
Kids' eyewear is so much fun these days and cool kids want it even when they don't need vision correction! Let's look at the trends in colours, materials and special design features that make kids' frames a unique combination of form and function.
July / August
Smart Contact Lens Technologies
Are contact lens technologies living up to the promises we've read about for years? Are they delivering drugs effectively? Are they creating virtual reality experiences that can be usefully integrated into the daily lives of wearers? This feature asks the tough questions and delivers the goods on the latest and greatest.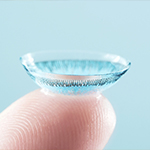 September / October
Special Lens Issue
Envision magazine offers you an annual opportunity to reach Canadian eyecare professionals with details of your amazing new lens offerings. Make sure you cover all your marketing bases by taking full advantage of this complementary exposure for your new lens products.
November / December
Annual Innovation Issue
Come one, come all! Let Envision's editors in on your most innovative products and services. We'll review all submissions and publish the creme de la creme. Whether you're working in marketing, equipment, digital services, lenses, frames or something so innovative we don't even have a category for it yet — send us word of your magnificent creations!
Editorial Team
---
JoAnne Sommers 
Editor-in-Chief
Envision: seeing beyond Senior Editor JoAnne Sommers has spent more than 30 years working as a journalist and communications professional. In addition to her work on Envision magazine, her credits include The Globe and Mail, Maclean's, Canadian Business and Investment Executive. She has been associated with Breton Communications since 1997.
---
Paddy Kamen
Senior Editor
Paddy is an experienced communicator who enjoys media relations, public speaking, and adult education. Her published writing can be found in The Globe and Mail, The Toronto Star, Maclean's and Canadian Business magazines. Paddy has worked in the optical sector, as a contributor and now editor-in-chief of Envision: seeing beyond magazine for over 10 years.
---
Caroline Breton Brider
Associate Editor
Caroline Breton Brider, a registered dietitian, is an associate editor for Envision: seeing beyond magazine. She has published several articles on eye health and nutrition. A member of l'Ordre professionnel des diététistes du Québec and Dietitians of Canada, she holds a Bachelor of Science in Nutritional Science from McGill University and a marketing degree from Ryerson University.
---
Brian P. Dunleavy
Associate Editor
Brian P. Dunleavy is a freelance writer based in New York City. He has been covering the spectacle lens market for more than 15 years, writing for publications such as 20/20, Vision Monday and Review of Optometry. He has also written on other health care-related topics, contributing to professional journals for pain specialists, general practitioners and infectious disease specialists.
---
Shirley Ha
Associate Editor
Dr. Shirley Ha graduated from the University of Waterloo School of Optometry and is currently in private practice in Burlington-Oakville.  She served as past-president of the Ontario Association of Optometrists (OAO) and is currently the Volunteer Lead for the Eye See…Eye Learn program in the Halton area.
---
Margaret Osborne
Associate Editor
Margaret Osborne is a full-time marketing professor at Seneca College, and a registered optician in Ontario. Her  education includes a BSc from Carleton University, an MBA from the University of Toronto, and a social media  management graduate certificate from Georgetown University. Margaret's goal is to bring a fresh eye to optical retail  management combining academic research, the breadth and depth of 30 years of industry experience, and an admittedly geeky love of all things techie and digital to independent retailers.
---
Evra Taylor
Associate Editor
Over the course of fifteen years, Evra Taylor has been senior writer and editor for leading communications agencies in Montreal and Toronto. An accomplished journalist, Evra has worked as a columnist and feature writer for Montreal's The Gazette, and numerous trade and consumer publications. Evra's talent lies in her ability to write informative content with an original twist.
---