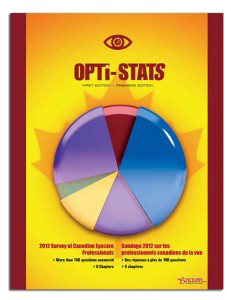 LAVAL, QUEBEC – Breton Communications is pleased to announce that the results of the first-ever online survey of Canadian eyecare professionals are now available for purchase.
As a trusted source of information on Canada's optical industry, the company received numerous requests from both vision care practitioners and suppliers for industry statistics that simply weren't available. As a result, Breton Communications launched OPTI-STATS, a web-based data gathering tool.
The 2012 Survey of Canadian Eyecare Professionals was launched in May 2012 and conducted over a period of three months. Email invitations to participate were sent to approximately 4,900 optical professionals and retailers. More than 960 professionals responded by starting the questionnaire and over 530 completed it, giving it a 57% completion rate.
"We were thrilled with number of eyecare professionals who responded," says Martine Breton, president of Breton Communications. "With over 100 questions in eight different categories, we really appreciate that so many ECPs took their valuable time to provide us with answers."
The survey included questions on demographics, sales, Internet usage, marketing, purchasing, human resources, eco-responsibility and an overview of the industry. The results provided a very detailed portrait of the Canadian market: a graying industry with 67.2% of respondents aged 40 or older, 66% independent retailers, 30% chain stores and the majority located in Ontario and Quebec. Also, in spite of recent economic uncertainties, the chapter on sales was fairly positive with 33.9% of professionals indicating that sales were slightly higher in 2011 compared to 2010.
Breton also adds: "The high level of participation really provided us with reliable data. Using an approximate population of 12,000 Canadian ECPs, the survey demonstrates a 4.135% margin of error and a 95% confidence level. With the major changes that have taken place in Canadian vision care over the last few years, this type of accurate information has never been more vital."
Breton Communications plans to conduct more surveys in the future, providing comparative analysis and trends insights against this first baseline report.