EnVue : voir plus loin is an independent optical trade magazine specifically geared to francophone eyecare professionals.
Understanding the uniqueness of the francophone market, EnVue : voir plus loin provides relevant content that helps this sizeable demographic remain informed about an industry that is evolving at lightening speed!
Closing and Publishing Dates 2023
---
 Closing Dates
  Publishing Dates
  Edition
  Reservation
  Material
  Digital Edition
  Print Edition
January / February
February 3, 2023
February 10, 2023
February 20, 2023
February 27, 2023
March / April
March 17, 2023
March 24, 2023
April 3, 2023
April 11, 2023
May / June
May 19, 2023
May 26, 2023
June 5, 2023
June 12, 2023
July / August
July 13, 2023
July 20, 2023
August 11, 2023
August 21, 2023
September / October
September 21, 2023
September 26, 2023
October 6, 2023
October 13, 2023
November / December
November 17, 2023
November 24, 2023
December 4, 2023
December 11, 2023
Printed Editions
subscribers
---
*Based on the January / February 2022 issue
Digital Editions
subscribers
---
January / February
Japanese Eyewear
Japan is one of the world's most important and successful manufacturers of eyewear and its eyewear brands — from Matsuda to Eyevan — are among the most renowned. This feature will explore the country's eyewear tradition and look at how its inventiveness and technical know-how inform eyeglass designs.
En Vogue: Beating the winter blues with colourful eyewear!
March / April
Sunwear: Latest Trends
The only problem with today's sunwear is that the industry has created an embarrassment of riches! This feature will highlight sunglasses that will wow you and your clients. Chic or practical, they suit the lifestyles of a wide range of customers without sacrificing style.
En Vogue: Eyewear for the Little Ones
May/June
Ecology in the World of Eyewear: A Dominant Concept or a Fashionable Slogan?
The environment is top of mind today and this has led to changes in the production and consumption of eyewear. Eco-responsible production is becoming increasingly common as consumers demand environmental accountability and eyewear is no exception. We present an interview with Dominique Cuvillier, an expert on eyewear trends, a regular at optical trade shows and a writer, whose latest essay is: La vie en vert, Guide des lunettes écolo. (Life in Green, Eco-eyewear Guide)
En Vogue: Feminine Eyewear
July / August
How to Build an Ideal Team
Building a dream team that communicates well and cooperates effectively can be challenging. What makes a good team and how do you create one? Here are some ideas from specialists in the field and from a clinician who has met this challenge.
En Vogue: Multi-shaped Glasses
September / October
Innovations We Applaud
Every year, at SILMO, MIDO and other international trade shows, companies present eyewear-related innovations of all kinds. Here are some innovations from recent years that have attracted the attention and votes of trade fair juries. We also look at the criteria for winning prizes. Is winning a guarantee of success after the show? Several recent finalists and winners relate their experiences.
En Vogue: Spanish Eyewear
November / December
Luxury: Telling a Story
Luxury frames tell a story. ECPs must understand these stories because luxury consumers know what they want and make sure they find it. This feature will highlight an array of luxury collections that will turn the heads of consumers with the refinement and means to choose from among the world's finest eyewear offerings.
En Vogue: Light Glasses
Editorial Team
---
Lorraine Boutin
Editor-in-Chief
Journalist researcher for television and radio (Radio-Canada, Télé-Québec, TVA) for a long time and content-creator for different companies, Lorraine Boutin is an expert in content-popularization and information processing. She is passionate for every topic, as long as it is a good story to share with the public. Under her leadership, EnVue : voir plus loin aims to present different perspectives on optical news and the industry issues.
---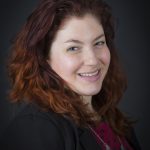 Kim Auclair
Associate Editor
Entrepreneur, blogger and speaker, Kim Auclair is well-known in the Quebec entrepreneurship community. She spreads her ideas and advice on a variety of platforms around a theme that she cherished: the development of entrepreneurial skills. Kim Auclair also created, in 205, MacQuébec, a Quebec Apple user community. Now, the website is animated by around 20 collaborators and receives more than 600,000 visitors a year. Through her business, Niviti, she provides creative services and advice, online animation and community manager.
---
Olivier Schmouker
Associate Editor
Olivier Schmouker is a columnist for the newspaper Les Affaires. His two blogs ­– «En Tête» (management) and «Espressonomie» (economy) – show an average of 1 million page views per month. He regularly acts as a speaker, to talk about management or economy. He is the author of the bestseller «11 choses que Mark Zuckerberg fait autrement», number 1 on Amazon in 2016 in Business Books in French. Before, Olivier Schmouker was journalist for Infopresse, the Quebec reference in advertising and communication. And before that, he worked in various media in France (print and television).
---
Dominique Meyer
Associate Editor
Clinical researcher, national and international lecturer, ophthalmologist Dominique Meyer stepped away from the RAMQ 12 years ago to found a private surgical institute in Quebec (www.institutprivedechirugie.com), which allows her to devote her expertise to refractive surgery, as well as cosmetic eyelid procedures.
---
Carole Riehl
Associate Editor
Carole Riehl has more than 20 years of experience as a qualified French optician. For the past five years, she has been a zero waste family and has applied these principles in her work. Carole is the author of the magazine Les lunettes écologiques since 2013, creator of the Optic For Good label and eyewear influencer. Her mission today is to raise awareness in the optical industry on sustainability issues.